thekeyholder91
Happy New Year, everyone! If we've been friends for some years, you probably know that I always make a list of my favourite books I read in a year. Tbh, I read a lot of non-fiction/lit theory this year because of my thesis (which I still haven't started writing... so if you feel like cheering me on, please do). If you'd like to follow me on Goodreads,
here's my page
. Without further ado, here's my list:
10.
Neil Gaiman - Fortunately, the Milk
I'm a huge Neil Gaiman fan, but I still haven't read all his stuff. So at the end of summer, I bought three of his children's books in a sale. Remember those times when your mum went to the store, saying it'd only take 5 minutes, but then she returned in an hour or so, leaving you restless? This book explores that in a really hilarious way. There's pirates, vampires, an ancient civilization and aliens. Honestly, it's the best children's book I've ever read. I wish those in my time were this funny and sweet.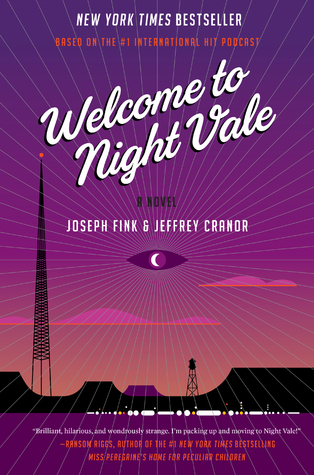 9. Joseph Fink and Jeffrey Cranor - Welcome to Night Vale
I've been a fan of the WTNV podcast for over 3 years now (though I'm terribly behind). I recommend it wholeheartedly, and I think it's better if you're acquainted with it before reading this. It's just a different kind of weird, and maybe it's not your style. To be honest, the podcast's style didn't work that well for me in this novel - the story was interesting, the narrative style... eh. But it has two female main characters who need to work together in order to achieve what they want.
8.
J. K. Rowling (is she even the author, though?) - The Cursed Child
I only got to read this because a colleague from German class lent me it. I mean, Harry Potter was a huge part of my childhood, but I never got into the fandom, not like with others. So I didn't feel like reading it when it was released, and afterwards I heard many negative opinions. Maybe that made me lower my standards, but I didn't find the book terrible. Okay, unfortunately I saw a lot of spoilers on the internet, so maybe I was prepared? The plot was quite interesting, and I liked the new characters (and yes, I totally see why people ship Scorpius with Albus). It was, of course, great to see the old gang too. I don't know, I found myself liking Ron the most. xD I just thought he was pretty sweet and funny.
7.
Robin Talley - Lies We Tell Ourselves
Oh, this book. The heartache. I bought it on Kindle as it was really cheap, and of course because it was advertised as historical f/f YA. I haven't read many f/f novels, so I was excited about it, and it proved to be a very good read. It's 1959 and some of the town's best black students are forced to join the white highschool. As you can imagine, the students and their parents are raging. Among the black students is Sarah, who suddenly has to work with Linda on a school project. Linda is that popular girl who already has an older boyfriend. Moreover, her father is the owner of the newspaper Linda's father works at, and he does not support integration. Despite all this, the girls feel attracted to each other. The novel raises a lot of issues about race, gender and sexuality. No spoilers, but it ends on a happy note. I'm sure we're all getting tired of gay people dying.
6.
Sarah Kane - Complete Works
I don't usually read drama I prefer to watch it on stage (even though it seldom happens, sadly). This was for one of my courses, and honestly, I only took it because my favourite professor returned for a semester, and wanted to have a course with her. But gosh, this has to be one of the works that influenced me the most. I feel like you need to read some commentary or interviews with the author before delving into this. It's dark, shocking and you'll need bleach for my eyes, believe me. Nevertheless, I feel like it's because of her plays that I started writing this story set in a... concentration camp (it started out as Belldom, but I'm thinking about actually making it a novel). Sarah Kane became famous with her first play, Blasted, in 1995, because it became a huge scandal. This bad reputation followed her in her short career, even though her style changed from play to play. Unfortunately, she committed suicide in 1999. 5 plays and one short film script remain from her.
5.
J. C. Lillis - How to Repair a Mechanical Heart
Oh, this book. It's so funny and sweet. And the author, you guys. I'm friends with her on Instagram, and she's always so lovely (she even commented on my cake pic yesterday, and made me very happy). I once contacted her to ask her about her second novel,
We Won't Feel a Thing
, and she didn't mind my questions. Anyway, back to this lovely piece. The story: Brandon and Abel have a vlog about a popular science fiction TV show, Castaway Planet. While both boys are openly gay, their life is quite different: Abel's been out for many years, but Bran only for a few months, because his family is Catholic. However, he hides, or rather tries to hide, his struggle from Abel, so that he too is as cool as his friend.
The two boys met online, not just because of their huge love for the TV show, but hatred of a large part of the fandom,mainly the people who ship Cadsim (Captain Cadmus and Sim, an Android). I loved how both boys like the character that resembles them the most: Abel is crazy for the brave and easygoing Captain, while Brandon admires Sim who simply cut out his evolution chip, so he wouldn't fall in love, and just enjoy friendships. Abel and Brandon decide to go on a great road trip with their friend Bec, while also attending Castaway Planet cons. Their aim is to ask the actors and the showrunner about the relationship between the two characters. They even enter a bet with the leader of the Cadsim group.

The adventures the boys and Bec have are really funny, and made me wish I would have been there. More importantly, I think the characters are extremely well portrayed. Even though Brandon is the narrator, I got a good description about everyone. Of course, Brandon's struggles are at the forefront, and I think they were realistically and honestly presented. I also really enjoyed the references to this fictional show - I'm pretty sure that if it were to exist, I'd be a fan! moreover, I'd totally be a Cadsim shipper xD
4.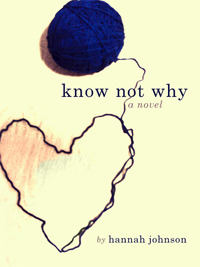 Hannah Johnson - Know Not Why
Don't be stupid like me, kids. Kindle had been recommending this book to me for months, but after I read the summary, I didn't feel like reading it. What a mistake. It's a m/m novel about how Howie, in order to get a girlfriend, applies for a position at a crafts store. He doesn't expect to fall for Arthur, his gay boss, though. It sounds simple, but believe me, this is one of the funniest books ever. Howie's the narrator, and he's a smart cookie. I giggled my way through the novel. What was also a pleasant surprise was that I loved EVERY character in the novel
(and I want them to be my friends)
. The romance is really nice, and even though Howie can be an idiot, Arthur still understands him and supports him.
3.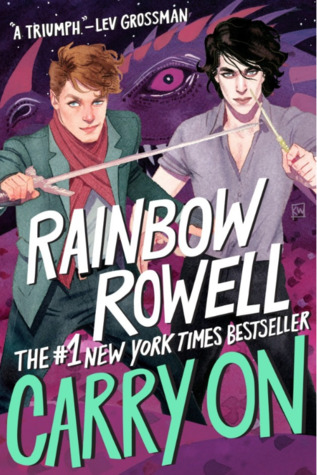 Rainbow Rowell - Carry On
I've been a Rainbow Rowell fan since I read
Fangirl
- you might perhaps want to read that one first, as
Carry On
is actually the fanfic the protagonist of that novel is writing (though Carry On is *not* the fanfic). I also linked here the awesome cover that will be released in May. So this is a Harry Potter parody, centred on Simon and Baz, that kind of imagines what it would have been liked if Harry and Draco had been roommates. At first, the magic spells in this universe puzzled me, but you get used to it after a while. I liked how the 'chosen one' trope was subverted. However, what I enjoyed the most was the relationship between Simon and Baz - they start from enemies, then allies, to lovers. You guys, their first kiss scene is SO GOOD AND BEAUTIFUL. All their scenes are sweet. I hope to see more books like this.
The next two novels are the ones I'm doing my thesis on. I think they are both spectacular, and I'd love to discuss them (or any other books!) with you.
2.
N. K. Jemisin - The Hundred Thousand Kingdoms
This is actually the first book in a trilogy, but it works as a standalone (I haven't read the other two books yet). I've never read anything like this. Mindblowing, shocking, amazing. I suck at summaries, so here's what GR says: Yeine Darr is an outcast from the barbarian north. But when her mother dies under mysterious circumstances, she is summoned to the majestic city of Sky. There, to her shock, Yeine is named an heiress to the king. But the throne of the Hundred Thousand Kingdoms is not easily won, and Yeine is thrust into a vicious power struggle.
Kickass heroine, amazing universe, political intrigue, unexpected twists, and most importantly,
the gods.
Damn, the gods are so interesting. They can change their gender and appearance, and it's explosive. I love their personalities so much. That's pretty much what I can say without giving away important bits. I'm writing my thesis about how fantastical creatures take up the human form and how they conform to gender expectations, so my little nerd heart had a party when the gods in this series could not only change their appearance, but gender as well. I honestly cried from the beauty of this novel.
Drumrolls, please.
1.
Neil Gaiman - American Gods
If you know me, you probably heard about my love for
Good Omens
. You might even have got a copy of it from me. xD American Gods might well take over that place, or at least share it. I don't even know what to say about this novel. Old gods in present day America. That's all you need to know probably. I love every character, but my big time favourite is Czernobog, the old Slavic god of darkness and evil. Western European and American authors rarely write Eastern Europeans in a not stereotypical way, but Gaiman managed that. There's also Mr. Wednesday (Odin), and Anansi (the African trickster god), and the Egyptian gods, and of course, Shadow, the human protagonist. I love everyone. I linked here to the most common cover, but please, if you can, do buy the
2016 extended edition illustrated by Daniel Egneus
. I have it and it's gorgeous!!!
Guess what, the book is made into a show! BY BRYAN FULLER!!! Look at all these amazing actors in it (NEITHER ROLE HAS BEEN WHITEWASHED, YOOO)!!! And each section of the book will get its own season! HOLY SHIT, GUYS, I AM SO EXCITED, I WON'T SHUT UP ABOUT IT
Happy New Year and happy reading!